I would like to leave this month off on a more positive note so here a few möbius treats.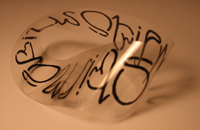 This image is from the
Autologlyphs website
. Henry Segerman put the word möbius into a möbius strip. You will also find a cube cube, a torus torus and more.
This may be a little dry if you are not a knitter but I think it is pretty cool that it is possible to knit a seamless möbius strip.
And we can't leave this without Escher's ants and some related math:
http://www.cut-the-knot.org/do_you_know/moebius.shtml
Enjoy.